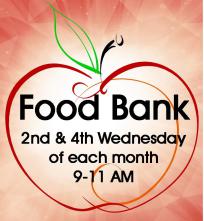 Our Food & Clothing Bank is open every 2ND & 4TH Wednesday from 9-11 AM. It is a casual drop in atmosphere where you will be greeted warmly and given whatever items we carry each week. ID with your current address are required. Annual demographic form needs to be completed by each household to comply with 2nd Harvest Food Bank requirements.
Commodity Food Distribution Program is held every 3rd Thursday of each month from 9 AM TO 1 PM Current ID with address are required.
Donations of fresh produce, non-perishable and personal care items are always welcome. Contact Loretta Gregor at 209-477-4441 for drop off time and locaion.